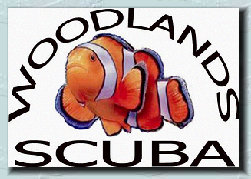 Woodlands Scuba, Inc., based in The Woodlands, Texas, is proud to offer the PADI system of diver education. We offer a range of PADI courses throughout the year. You will find our prices to be very competitive and we offer what we believe to be one of the best values in the Houston area. Our number one priority is your safety.

In conjunction with The Woodlands Park and Recreation Department, we are offering the PADI Open Water Diver course at a cost of $295. This price includes your textbook and logbook, dive tables, classroom and pool instruction, certification card fees and use of all scuba gear required for training. We are currently offering weekend classes. Custom schedules for private classes are also available at an additional cost. Upon completion of the course, which consists of 2-3 classroom sessions, 2 pool sessions and 2 days of open water dives, you will earn the PADI Open Water Diver certification (or Junior Open Water Diver certification, depending on your age), enabling you to buy and rent scuba equipment and dive without direct instructor supervision. The minimum age for enrollment in the course is 10 years old. Please send an email for further information or to sign up.

We are now also offering Emergency First Response courses. Emergency First Response (EFR) is the fastest-growing international CPR, Automatic External Defibrillator (AED) and First Aid training organization. Dedicated to training the lay rescuer, EFR courses encompasses adult, child and infant CPR skills, provides AED and First Aid training, and feature an outstanding First Aid at Work component. The company's award-winning programs and state-of-the-art training materials make it a favorite among divers around the world.

Many divers take the Emergency First Response courses to meet program prerequisites, such as PADI Rescue Diver, or as preparation for becoming a PADI Divemaster. However, most have also found the EFR program to be important in every day life. They have taken a significant step in emergency preparedness, and feel confident that they can provide care should an emergency situation arise.

The Emergency First Response program meets requirements for CPR and First Aid in the workplace (OSHA Guideline 29 CFR 1910.151), and incorporates the latest procedures for emergency patient care. Other organizations that recognize EFR as meeting their requirements are United States Coast Guard, The Boy Scouts of America, and the American Council on Exercise (ACE), to name a few.